This season of FIA Formula 3 has been a huge experience. I went into the season focused on developing myself as much as I can. I put in everything and whilst there were plenty of good and bad moments, I really think I made the most of the opportunities I had with a mix of great results, and also strong fights through the field.
Of course my highlight was the round at Paul Ricard where I achieved my first podium. It was an intense, race-long battle with the leading group of seven cars, all within half a second of each other! We were swapping positions every lap, even multiple times per lap, so holding position was tough, and any small mistake would be punished severely. It was a surreal experience, especially at a Grand Prix event, with a full crowd of motorsport enthusiasts watching.
To get away well from Pole Position and lead for nearly half the race where the effect of the tow was very high, was something which was satisfying. Of course, I would prefer to have kept the lead, and there were things that I learned for next time, but to be in the fight throughout a race which has been described as one of the best F3 races ever was a strong result. I certainly earned that podium!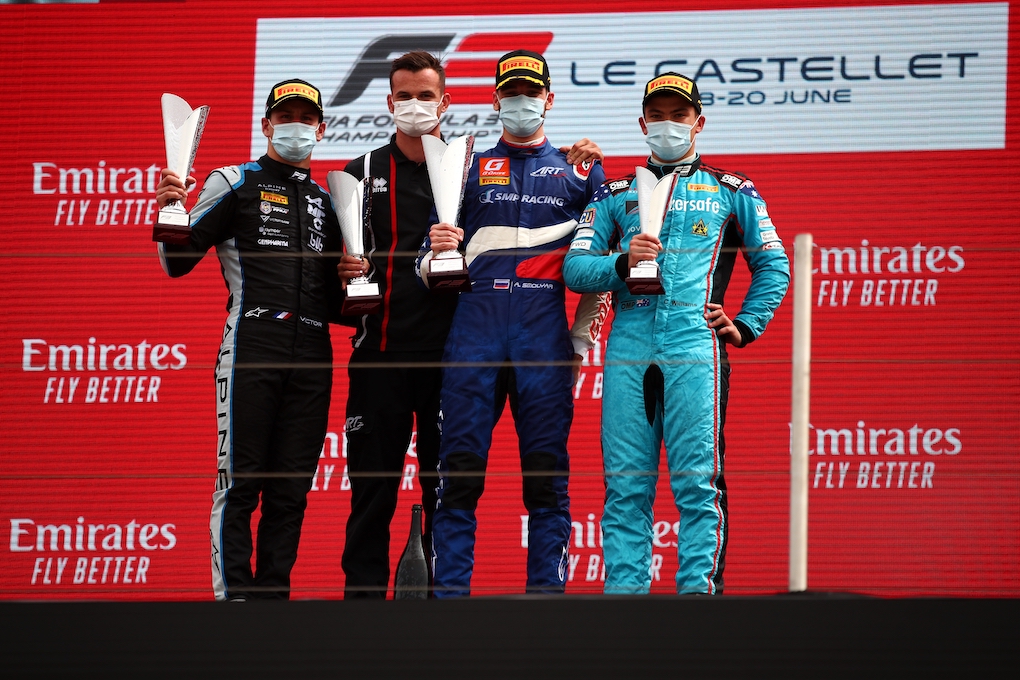 Throughout the year, I had plenty of other great experiences. The atmosphere at Zandvoort was unlike anything I had ever been a part of before. The entire town was full of thousands of Max Verstappen fans, and everywhere you looked was covered in orange flags and posters of their home hero. You could hear the crowd celebrating from the hotel when he won the race, and fireworks were being lit throughout the night!
Then to finish the season racing in Russia, where the culture is so different to what I'm used to. Experiencing other cultures and understanding how different people live is important to develop your own understanding of the world. The circuit was also unique, with its layout twisting between the Olympic buildings that were developed for when Sochi hosted the Winter Olympics. I was pleased to perform so strongly in the final race of the season, starting from a tough position in 21st, but fighting my way through the field to finish in 12th. I made the most positions of anyone in the race, finishing in the fight with the group spanning from 8th to 13th.
This past year, I worked a lot harder than I ever have in the past and as a result I've seen big improvements in my fitness throughout the year, and this is a huge contributing factor to my continued improvements in performance on track. With the work I've done with Formula Medicine, I've not only been pushing myself even further physically, but my level of understanding about how to achieve my maximum potential, has shifted my mindset in daily life.
Doing that really helped me to continue improving and maturing as a driver as I understood it all a lot better. I handled things out of my control, but I think the way that I managed things that were in my control and took opportunities was quite good.
Of course I want to thank all of the team at Jenzer Motorsport. I'm really grateful for the hard work the everyone has put in, and it's definitely hard to say goodbye after two years, but I've had a great time with them.
Now, my short term goals are clear. To prepare myself as well as I possibly can for three full days of Formula 2 testing at the Yas Marina Circuit in Abu Dhabi in December. I'm working on my fitness as much as I can, and will be spending plenty of time with Formula Medicine to be as physically and mentally prepared as possible, as well as plenty of track preparation and simulator work, to not only learn the new circuit, but also the new driving style required for the step up in car.
I can't wait for the opportunity, and I'll be doing everything I can to maximise my learning to be ready for the next step in my career! None of it would be possible, however, without all of my incredible support. Whether it's from investors, sponsors, or my supporters, it all means the world to me, and it's a pleasure to be able to share my stories with you.
Images Formula Motorsport and Dutch Photo Agency