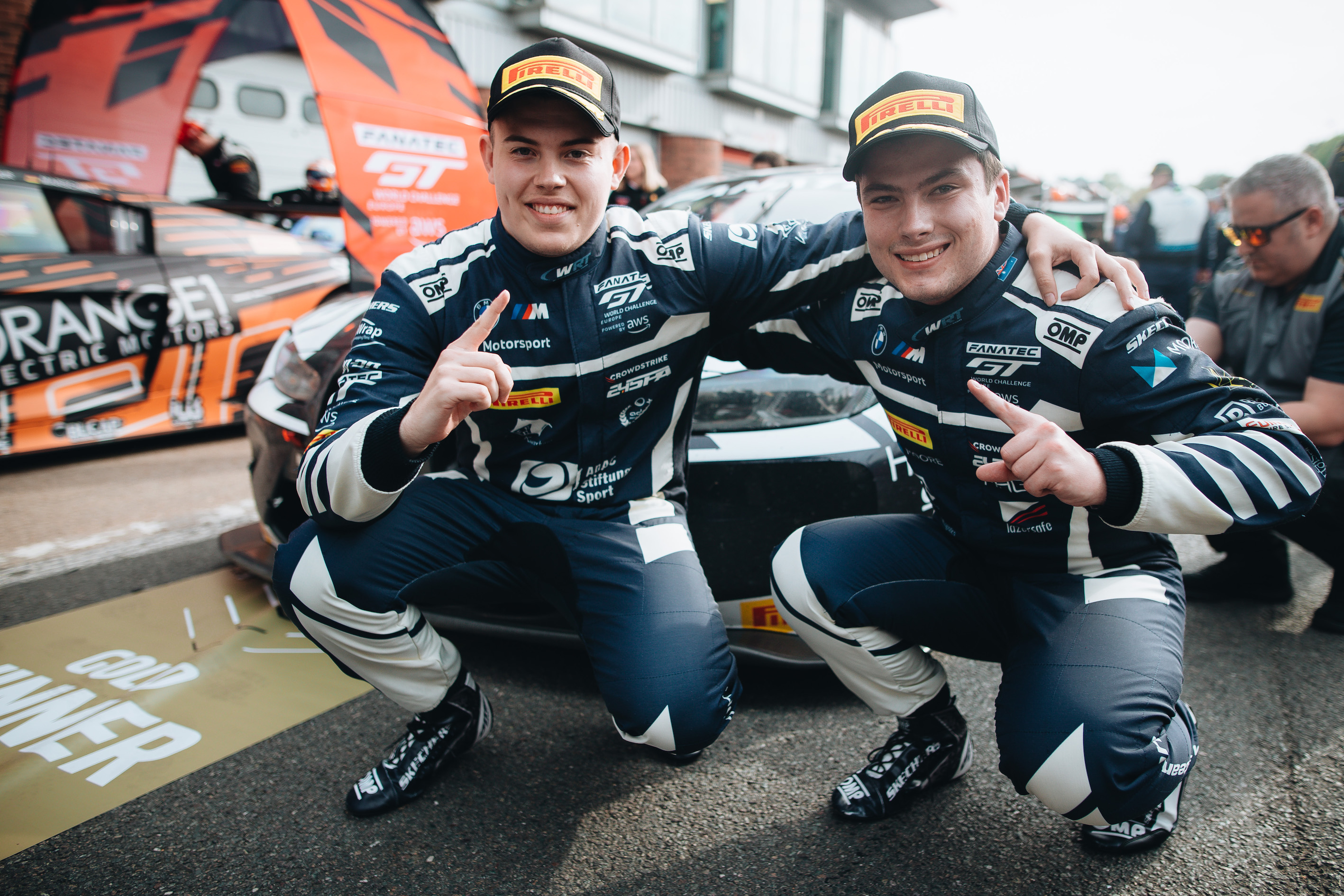 Calan Williams has secured his first win in the GT World Challenge, in his debut of the Sprint Cup and still only his second weekend in the Championship and GT category.
The win was a thoroughly dominant performance from Calan, co-driver Niklas Krutten and the team with the execution of an outstanding pit stop.
On Saturday, all of the BMWs looking to find a little more in handling. The BMWs are the biggest and heaviest cars in the field, and therefore the tight and twisty nature of the circuit in the slower sections is not really suited to the car. In the high speed sections they can gain an advantage, but these sections are not long at Brands Hatch. However through practice, they worked hard and were gradually improving the car.
Qualifying 1 was a complicated one with a red flags compromising the outcome, however Niklas Krutten delivred a strong Qualifying 2 to ensure they would start Race 2 from P8 overall and P2 in Gold class.
Race 2 Niklas made a good start from a very difficult situation being on the outside. When the race settled down he was in P10 and P2 in class with the leading Gold Audi in P5.
A safety car was required nearing the end of the first half hour and the Pit Window (during which time drivers must change) had its opening delayed by 2 mins as a result.
Once the race restarted, WRT made the decision to change drivers early, and try to "undercut" the lead Audi in the pits. This means through pitting early, Calan's early "outlaps" on the new tyres would need to be quicker than the Audi's extra laps on the warm used tyres and then Audi hopefully rejoins the race from its stop behind.
To do this Niklas first put in a couple of great quick laps prior to the stop. Then he pitted and WRT executed a perfect tyre change and importantly Calan and Niklas executed their part before the team had finished with the tyres.
Calan then rejoined and was extremely fast straight away on the new tyres, so when the Audi eventually made their pit stop a few laps later, they emerged just behind the WRT BMW.
Calan then continued to deliver fast lap after fast lap and eventually beat the Gold Audi car by 25 seconds, finishing the race P1 in Gold class, outright P7 and an incredible 20 seconds against the P8 Pro Car.
"It's a great way to start the season in the Sprint Cup, with a win," Williams said.
"I'm really happy with that, the team did a great job all weekend and the car was great. We showed we have the pace on track and in the pit stops, and that allowed us to have these great results."
WRT team principal, Vincent Vosse, was ecstatic with the performance.
"I really want to stress the great weekend of our young guys in the Gold Cup, they won race two whilst taking a great seventh overall. The drivers were fantastic and the pit stops were perfect."